In July 2008, the US Army Reserve and the Metropolitan Police Department (MPD) announced the launch of a unique employer partnership that allows both organizations to recruit, train and employ young people interested in both serving the nation and helping to protect the District of Columbia. The MPD became the first law enforcement agency in the nation to enter into this joint venture with the Army Reserve.
Recognizing that the Army Reserve and MPD are drawing from and utilizing the same dynamic workforce, the agreement between Army Reserve and MPD provides for a shared recruitment effort and tangible benefits for employers who share their employees with the Army Reserve.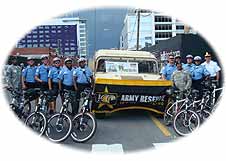 Today's Army Reserve provides for 93 percent of the Army's total military police force, allowing the MPD to have assured access to a trained, skilled and professional law enforcement workforce. In return, the MPD will provide unique benefits to Army Reserve Soldiers including the potential for higher starting positions and salaries, the ability to earn college credits, as well as continued health and retirement benefits while on active military duty.
The Employer Partnership Initiative seeks to formalize the relationship between the Army Reserve and employers who are drawing from and utilizing a similar workforce. It establishes a process whereby employers and the Army Reserve may secure and share the talents of trained professionals. Partners such as the Metropolitan Police Department will benefit from the employment of men and women with Army values, experience and proven leadership skills. Other partners include Inova Health System, the American Trucking Associations, Con-way Freight, and Crowley Auto Group.