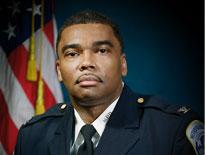 Commander Joel Maupin began his career with the Metropolitan Police Department in October 1983 as a uniformed patrol officer assigned to the Seventh District. He rose through the ranks, achieving the rank of sergeant in a 1990, lieutenant in 1993 and captain in November 1995.
Throughout his career, Commander Maupin has served in a variety of operational assignments, including the Seventh District as a lieutenant and the Fifth District as a captain, as well as previous assignments in the First District, Second District, Criminal Investigations Division, Youth and Preventive Services Division and Communications Division, serving as the division director. He was promoted to the rank of Inspector in April 2001 and served as deputy director of the Maurice T. Turner Jr., Institute of Police Science, where he oversaw the Department's initial recruit training and the in-service training of all members. Most recently, he served as inspector in charge of the Sixth District Substation. He was promoted to Commander of the Seventh District in July 2004.
Commander Maupin has completed the Management College at the Institute for Law Enforcement Administration and is a 2002 graduate of the Senior Management Institute for Police (SMIP) of the Police Executive Research Forum in Boston.