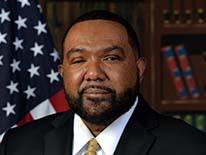 Mr. William B. Sarvis Jr.is the Executive Director of the Corporate Support Bureau. His responsibilities include; oversight of the Medical Services Division, Property Division, Records Division, and Fleet Management Division.
The Corporate Support Bureau facilitates distribution and coordination of all support related services and has records oversight for the Metropolitan Police Department.
Mr. Sarvis is a former police officer who came into the agency in 1972 as a police cadet. In 1974 Mr. Sarvis was converted to a police officer where he quickly rose up through the ranks. During his long tenure with the agency he held various positions from Sergeant to Assistant Chief. He commanded the First District where they realized a significant reduction in crime throughout his tenure. In 1997 Mr. Sarvis optionally retired from the Metropolitan Police Department as an Assistant Chief of Police assigned to the Technical Services Bureau.
For the next 14 fourteen years Mr. Sarvis worked as a consultant for the Fraternal Order of Police Labor Union. While there, he assisted with an assortment of labor related issues. He was intricately involved with contract negotiations, and also represented members at arbitration, mediation, and Retirement Board proceedings.
In April 2011 and for the next 6 years Mr. Sarvis was appointed as a civilian Director at the Police and Fire Clinic. He was designated Contract Administrator (CA) and oversaw management of the $15 million dollar contract and responsible for day to day operations.
Mr. Sarvis holds an Associate's Degree in Public Administration, Bachelor's Degree in Criminal Justice, and Master's Degree in Behavioral Science from Johns Hopkins University. He is also a graduate of the FBI Academy in Quantico Virginia.