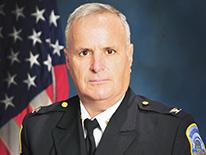 Daniel P. Hickson currently is the Commander at the Metropolitan Police Department's Police Academy. He has been in this position since September 2015, where he is responsible for all police recruit training, professional development training, and continuing education for the Metropolitan Police Department.
Commander Hickson began his career with the Metropolitan Police Department in 1973 when he became a Police Cadet. During his early years, he served as a police officer in both uniform patrol and tactical assignments while assigned to the First District and the Special Operations Division, Tactical Branch. In 1978, Hickson began serving in investigative assignments within the Narcotics Branch and the Criminal Investigations Division. In 1992, Daniel Hickson was promoted to Sergeant and was assigned to the Fourth District. He was promoted to Lieutenant in 1994 and assigned to the Fifth District, where he remained until being transferred to the First District as an Acting Captain and the commander of the First District Support Sector.
After a brief period of retirement, Hickson returned to the Metropolitan Police Department in 2008 where he served as the Intelligence Branch Director, advising the Chief of Police and Command Staff on all criminal intelligence issues. In December 2009, Daniel Hickson was promoted to the Commander of the Criminal Investigations Division (CID). During his tenure, CID has continued to excel, having been recognized for outstanding performance and innovative investigative techniques on several occasions.
In June 2011, Hickson was named Commander of the First District. During his tenure at the First District, Hickson and his staff developed and implemented a Robbery Response Plan to address an increase in street robberies. The plan resulted in a significant reduction in robberies and the plan was replicated in other police districts. The First District was named MPD's Best Performing District for 2012.
Hickson was named Commander of the Youth Investigation Division in February 2014. While serving in this capacity he conducted a thorough review of the division's policies, processes, protocols and procedure; after which numerous recommendations were made and implemented to enhance the efficiency and effectiveness of the division.