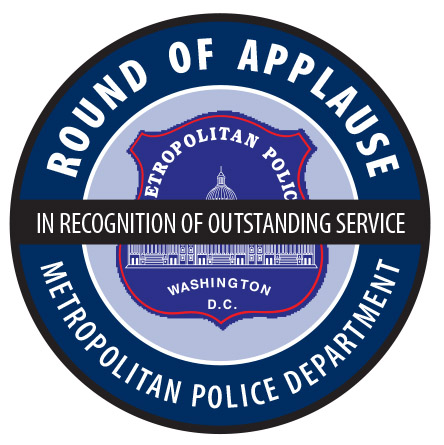 Each spring, the MPD holds a Department-wide awards ceremony to recognize sworn and civilan members for the outstanding work they do throughout the year. In addition to this annual ceremony, members are also presented with awards throughout the year at the regularly-scheduled crime briefings. In July 2016, the following members were recognized for their exeptional service:
Description
Achievement Medal
7/1/2016
Third District Members Quickly Collaborate to Snag Homicide Suspect
Following the issue of an arrest warrant for a Second Degree Murder While Armed, members of the 3D warrant squad were able to identify the whereabouts of a murder suspect, isolate him so he wasn't a threat to others, and arrest him without incident.
Meritorious Service Medal
7/15/2016
Homicide Squad Ends 2015 with Highest Closure Rate at 78 Percent
Squad 1 closed 78% of the 27 cases assigned to them during 2015. Among the cases they handled, Squad 1 was tasked with investigating a notable and high profile murder, in which David Messerschmitt, a prominent attorney, was murdered at the Donovan Hotel on February 10, 2015.

Lifesaving Medal
7/19/2016
2D, 3D Officers Heralded for Saving Jumper
Second District Officers Anthony Baker and Kevin Kennedy were driving when they observed a male subject sitting on the ledge of the overpass at Michigan Avenue and Warder Street, NW. The subject was on the outer edge of the bridge, with his feet dangling down to the open area below. They kept the person engaged as they waited for Officer Gregory Alemian, a trained negotiator, arrived. During the negotiating, it appeared that the subject stood up, and leaned toward the roadway below. Fearing that the subject was preparing to jump, Sergeant Kerron Roberts — along with Officers Baker, Kennedy and Andrew Shaheen— quickly moved in, grabbed the subject, and pulled him to safety.

Achievement Medal
7/19/2016
Canine Team Sniffs Out Drugs
Detective Vincent Witkowski and K-9 Trigger are being recognized for their outstanding accomplishments since 2010, including the recovery of a substantial amount of marijuana, as well as thousands of grams of other drugs, including Synthetic Cathinones (MDMA/Mol), Meth, Heroin, Cocaine, and PCP, with an overall street value of more than $6M.