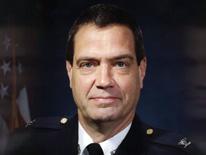 Commander Andrew Solberg
Commander Andrew Solberg joined the Metropolitan Police Department in 1987. He spent five years as a uniformed and plainclothes officer in the Third District, two years as a patrol sergeant in the Seventh District, and six years as a lieutenant in the Sixth District. While in 6D Solberg served for two years as the Midnight Watch Commander in charge of all operations, six months as a tactical operations lieutenant, three years as the team leader for Patrol Service Areas 606 and 608. He was later assigned as Commander of the Detectives' Office, supervising homicide, sex and general crimes detectives, as well as crime scene search technicians. In August 2001, Andrew Solberg was promoted to Captain and assigned to the Fourth District. Just less than three years later, in July 2004, he was promoted to Inspector at the First District Substation. Andrew Solberg was promoted to Commander of the Second District on September 17, 2006, where he served until April 2008, when Chief Lanier asked that he take over the operations of the Patrol Support Division. He became Commander of the Metropolitan Police Academy in 2010. In March 2011, Solberg was named Commander of the Fifth District.
Commander Andrew Solberg has lived in the District of Columbia since 1982. He and his wife raised four children in DC, all of whom attended DC Public Schools. Solberg holds a BA in Religious Studies from Haverford College, Haverford, PA, and Master's Degree in Philosophy and Social Policy from The American University, in Washington, DC. He is currently an adjunct instructor in George Washington University's Police Science and Safety and Security Leadership program.