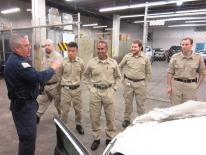 Applicants selected as reserve recruit officers undergo a comprehensive training program, commensurate with career police officer training standards, to become certified as reserve police officers with the Metropolitan Police Department. Reserve recruits undergo a 40-week police academy conducted every Tuesday and Thursday from 6:30 - 10:30 pm and on Saturdays from 8:00 am - 4:30 pm weekly. Additionally, members go through a five day emergency vehicle drivers training course and a ten day firearms proficiency course. Training to become a reserve police officer is a significant commitment and is not to be under estimated. Training is similar to pursuing a part time higher education degree.
During the training academy reserve police officers learn many subject materials to include the following topics:
• DC Criminal Code
• Laws of arrest, search and seizure
• Criminal investigations
• Traffic regulation and traffic control
• Crime scene control and processing
• Diversity training
• Mental illness
• Vehicle skills training course
• Intelligence, counter-terrorism and gangs
• Suspicious Activity Reports (SARs).
• Defensive tactics
• Firearms training