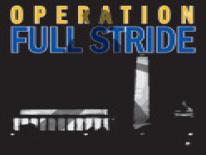 In an effort to increase our community-police interaction, crime prevention, and visibility in all of the city's neighborhoods, the Metropolitan Police Department is reintroducing an age-old tactic, the footbeat. Operation Full Stride will add foot patrols to all seven police districts to encourage interaction between the people who are sworn to protect the city and the people they serve. This program is intended to help you get to know the footbeat officers and the leadership team—the sergeants and lieutenants—in your police service area so you can call on them in a time of need or when you have a question. In order to be as effective as possible, we rely on your assistance to help us prevent and solve crimes in the nation's capitol.
Officers will hand out cards like the one pictured at right with the reverse side filled out to include their name, contact information, police service area (PSA), lieutenant's name and more. Residents are encouraged to get to know their officers and become involved.
Contact the Patrol Services and School Security Bureau at (202) 576-6600.
Learn more about Operation Full Stride