The Non-Violence Wheel
No matter what kind of relationship you are in now or have been in before, you deserve one where both people are treated equally. In an equal relationship, both people share the power and control.
The wheel below shows a relationship that centers on equality, fairness, and respect, and non-violence. Use this chart to compare the characteristics of a non-violent relationship to those of an abusive relationship. The Non-Violence Wheel is also helpful in setting goals and boundaries in personal relationships.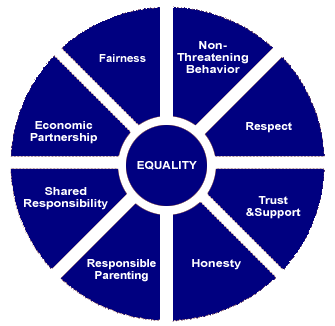 For additional domestic violence information:
Domestic Violence Unit
Police Headquarters
300 Indiana Avenue, NW, Room 3156
Washington, DC
Phone: (202) 727-7137
Fax: (202) 727-6491