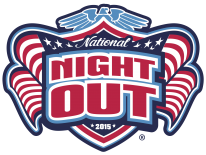 The National Night Out campaign involves citizens, law enforcement agencies, civic groups, businesses, neighborhood organizations and local officials from 9,500 communities from all 50 states, US territories, Canadian cities and military bases worldwide. Below are activities scheduled in Washington, DC for Tuesday, August 4, 2015.
National Night Out is designed to:
Heighten crime and drug prevention awareness;
Generate support for, and participation in, local anticrime programs;
Strengthen neighborhood spirit and police-community partnerships; and
Send a message to criminals letting them know that neighborhoods are organized and fighting back.
First District Activities
First District MPD Event
Description: Join neighbors and friends to enjoy an evening to celebrate community unity, obtain safety information, and recognize our citizen volunteers.
Location: Folger Park // 3rd and D Streets, SE
Time: 5:30-8:30 pm
Contact: Carolyn L. Smith, carolynL.smith@dc.gov, (202) 299-3374
Asian Liaison Unit Event
Description: Come to meet with ALU officers and our counterparts from AARP, OAPIA, DVRP, DCHSEMA. Let's talk about safety and enjoy small bites.
Location: 616 H Street, NW, Suite 201
Time: 4-6 pm
Contact: Kay Gibb, yunfei.gibb@dc.gov, (202) 724-8009
Second District Activities
Description: National Night Out will be from 6-9pm at Georgetown University located at 37th and O Streets, NW in front of Healy Hall. Free parking; just tell them you are there for National Night Out event. Other events and guests will be: crime prevention information, FBI fingerprinting children, GameTruck, Homeland Security, Children's Hospital, face painting, food and so much more. Come out and enjoy an evening filled with information with MPD, Georgetown Police and American University Police.
Time: 6-9 pm
Location: Georgetown University // 37th and O Streets, NW
Contact: Officer Rhonda Hardy, rhonda.hardy@dc.gov, (202) 270-2286
Third District Activities
Description: The event will have information tables as well as games, prizes, food and drink.
Time: 5-8 pm
Location: Bruce Monroe Park / 3000 Georgia Avenue, NW
Contact: Marco Santiago, marco.santiago@dc.gov, (202) 671-6604
Latino Liaison Unit Activities
Description: Enjoy games, food, a live broadcast with El Zol 107.9 FM, and more.
Time: 4-9 pm
Location: SunTrust Plaza // 18th Street and Columbia Road, NW
Contact: Sergeant Wilfred Salas, wilfred.salas@dc.gov, (202) 673-4445
Fourth District Activities
NATIONAL NIGHT OUT CITYWIDE KICK-OFF
Description: The Fourth District will focus on our large senior population with emphasis on senior services, safety and prevention literature, fitness demonstrations and senior resources. Focusing on "Bridging the Gap," the event will also bring together youth and seniors with a theme of "healthy safe summer."
Time: 5-9 pm
Location: Takoma Community Center / 300 Van Buren Street, NW
Contact: Derek Staten, derek.staten@dc.gov, (202) 270-1640
Fifth District Activities
Description: Join the Fifth District for an evening to celebrate community pride, unity, and most importantly our public safety partnerships. We will provide crime prevention tips/safety information, good food, great music and more. Residents will have an opportunity to meet and mingle with MPD Command staff, the CAC, and with your Neighbors. Pack up the Kids, put on your comfy dance shoes, come on out, and GET F.R.E.S.H. with MPD5D.
Time: 6-9 pm
Location: The Starburst Intersection // Maryland Avenue, Bladensburg Road, and H Streets, NE
Contact: Fayette Vaughn-Lee, fayette.vaughn-lee@dc.gov, (202) 497-0814
Sixth District Activities
Sixth District MPD Event
Description: The Sixth District, in partnership with the National Park Service and US Park Police, will celebrate NNO in River Terrace Park with a community bike ride and clinic, tennis clinic, 3-on-3 basketball, and a host of activities and talent to showcase our community partnerships.
Time: 5:30-9 pm
Location: River Terrace Park // Anacostia Avenue and Benning Road, NE
Contact: Julia Irving, julia.irving@dc.gov, (202) 489-9942
Fairlawn Citizens Association Event
Description: Join neighbors in Fairlawn as we reaffirm our determination to fight back against illegal and criminal activity in our neighborhoods.
Time: 6-8:30 pm
Location: Fairlawn Park // Good Hope Road and Minnesota Avenue, SE
Contact: Graylin Presbury, presbug@aol.com, (202) 549-7730
Seventh District Activities
Description: Enjoy demonstrations of dance from Faith Top, the Fruit of Islam Drill Team, Dance Ministries, Body of Evidence step team, and more.
Time: 5-9 pm
Location: St. Elizabeths Gateway Pavilion // 2700 Martin Luther King, Jr. Avenue, SE
Contact: Lendia Johnson, lendia.johnson@dc.gov, (202) 439-5475