National Night Out - Calendar of Activities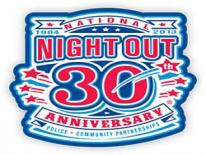 The National Night Out campaign involves citizens, law enforcement agencies, civic groups, businesses, neighborhood organizations and local officials from 9,500 communities from all 50 states, US territories, Canadian cities and military bases worldwide. Below are activities scheduled in Washington, DC for Tuesday, August 6, 2013.
National Night Out is designed to:
Heighten crime and drug prevention awareness;
Generate support for, and participation in, local anticrime programs;
Strengthen neighborhood spirit and police-community partnerships; and
Send a message to criminals letting them know that neighborhoods are organized and fighting back.
First District Activities
National Night Out Kickoff Event
6:00 pm
Description: Local law enforcement agencies, outreach tables, activities for kids, food and music.
Location: Sursum Corda/Northwest One, Walker Jones Elementary School / 1125 New Jersey Avenue, NW (NOTE NEW LOCATION)
Time: 5-8 pm
Contact: Carolyn L. Smith, carolynL.smith@dc.gov, (202) 299-3374
Second District Activities
Description: Come out on Tuesday, August 6 for VIN etching, meet with Commander Reese and officers of the Second District, sign up for neighborhood watch, home burglary checks, and more. Visit community partners to learn about domestic violence prevention, safety tips, child fingerprinting, drug prevention, and emergency safety. Plus appearances by the K-9 and Horse Mounted units. Food, games and prizes!
Time: 4:30-7 pm
Location: Second District Police Station, 3320 Idaho Avenue, NW
Contact: Officer Rhonda Hardy, rhonda.hardy@dc.gov, (202) 270-2286
Third District Activities
Description: The 3rd District National Night Out celebration will include a block party with food, drink and games. The MPD will have a bike rodeo for young adults and children. Information about safety will be distributed. Prizes donated by Target. It will be from 6pm to 9pm.
Time: 6-9 pm
Location: 3200 Hiatt Place, NW
Contact: Marco Santiago, marco.santiago@dc.gov, (202) 671-6604
Description: Community Safety Walk. Meet the group at New Jersey Avenue and N Street, NW, on the southeast corner at 6:30 pm. The walk will end at Hogo at 1017 7th Street, NW, with a fun community get-together. Hope to see you there to take a stand against crime!
Time: 6:30 pm
Location: New Jersey Avenue and N Street, NW
Contact: Rachelle P. Nigro, nigroanc6e@gmail.com, (202) 670-1732
Latino Liaison Unit Activities
Description: Come out on Tuesday, August 6 for National Night Out at the Latino Liaison Unit. The evening will feature family entertainment, live music, free food and resources from law enforcement, public safety, healthcare and community organizations.
Location: 18th Street and Columbia Road, NW
Contact: Latino Liaison Unit, (202) 673-4445
Fourth District Activities
Location: Paul Public Charter School, 5900 9th Street, NW
Contact: Derek Staten, derek.staten@dc.gov, (202) 270-1640
Fifth District Activities
Time: 5:30-8 pm
Location: Langdon Park, 18th & Franklin Streets, NE
Contact: Fayette Vaughn-Lee, fayette.vaughn-lee@dc.gov, (202) 497-0814
Description: PSAs 506 and 507 will hold a cookout featuring hot dogs, hamburgers, grilled vegetables and cool beverages. Residents from the surrounding neighborhoods will gather and walk to the location together.\
Time: 6-9 pm
Location: Starburst Plaza (Intersection of H Street / Benning Road / Bladensburg Road / Maryland Avenue, NE)
Contact: Commissioner Kathy Henderson, khenderson029@aol.com
Sixth District Activities
Description: The Sixth District NNO Celebration will be held at the East River Shopping Center. It will be a carnival-like atmosphere showcasing the talents of residents of the District of Columbia. In addition, there will be a book signing and discussion by a local author who will engage high-risk youth in discussions surrounding choices captured in his novel. A back-to-school giveaway will occur for eligible families.
Time: 5 pm
Location: East River Park Shopping Center, Benning Road and Minnesota Avenue, NE
Contact: Julia Irving, julia.irving@dc.gov, (202) 489-9942
6D Host
Time
Location

Bass Place Apartments

6 pm

Benning Road and Bass Place, SE

Benning Stoddert/Ft. Dupont

6:30 pm

305 37th Street, SE

Fairlawn

7 pm

Minnesota Avenue and Good Hope Road, SE
1100 block of 46th Place, SE

River Terrace/National Capital Parks-East
5-8 pm
River Terrace Park
Anacostia Drive and Dix Street, NE
For more info, call (202) 427-3873 or visit nps.gov/anac
Hillcrest/PSA606
6:30 pm - 8:30 pm
East Washington Heights Baptist Church
2220 Branch Avenue, SE
(corner of Branch and Alabama Avenues, SE)
Neighborhood Watch Zone 5
6:30 pm - 8:30 pm
Highview and Denver Cul-de-Sac, SE
Seventh District Activities
Description: Come out on Tuesday, August 6 for the National Night Out Community Awards, Crime Prevention Initiatives, Health & Wellness Screenings, Safety Demonstrations, Games, Food, Fun and Entertainment by liturgical dancers, step teams, pom poms andcheerleaders.
Time: 5-9 pm
Location: Livingston Road, SE and Atlantic Street, SE
Contact: Lendia Johnson, lendia.johnson@dc.gov, (202) 439-5475