Memorial to James M. McGee Jr.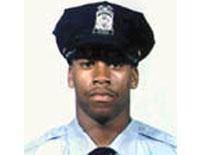 Officer Killed in the Line of Duty
Date of Death: February 7, 1995
Rank: Officer
Age: 26
Years of Service: Five
Marital Status: Married
Children: Two
Location of Death: 25th and Good Hope Road, SE
Circumstance:
Officer McGee, while off-duty, witnessed a robbery in progress. He drew his weapon and attempted to detain the suspect and protect the cab driver being robbed. A marked patrol car happened upon the scene and uniformed officers, unaware of the situation, ordered everyone to drop their weapons. Officer McGee turned toward the officers to see who was ordering him to drop his weapon. The officers, who feared for their lives, shot and killed Officer McGee.
Return to the list of officers killed in the line of duty.