Cadet Program: Philosophy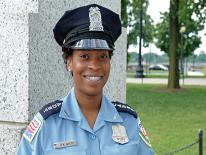 Call today for more information: (202) 645-0990
The Police Cadet Training Program is designed to prepare candidates for entrance into the Metropolitan Police Officer Recruit Program.

Cadets earn sixty college credits at the University of the District of Columbia to satisfy the Metropolitan Police Department's police recruit entrance requirement. The program also helps cadets develop the leadership and analytical thinking skills required to meet the challenges of their complex roles as problem-solvers, service providers, and professionals in the criminal justice system of the 21st century.

Operating through a cooperative education model, the Metropolitan Police Department seeks to inspire District of Columbia youths to play a more positive role in improving their neighborhoods. The underlying focus of cadet training is on self-discipline and instilling core values, such as service to the community.

The Police Cadet Training Program ensures that a steady stream of District of Columbia youth are actively recruited to join the Metropolitan Police Department as future police officers.