Applicant Polygraph Examination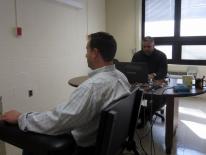 As part of your application process, you will be required to submit to a pre-employment polygraph examination. The polygraph examination will be administered by a trained and certified polygraph examiner. Failure to complete the polygraph examination will result in your removal from the application process.
Once you complete mass processing day, you will be scheduled for your polygraph examination. You will then receive instructions as to where to report and pertinent information regarding your polygraph examination.
In reference to your polygraph examination, you should arrive at your appointment well rested and prepared to allot a minimum of four (4) hours for the exam. In some instances, the polygraph examination could take as long as six (6) hours, depending on examiner availability and your personal history.
Below is a list of instructions for your polygraph examination:
6-8 hours of sleep the night before the examination
Eat before you arrive at your polygraph examination
Business casual attire is required
No powders, lotions, colognes or perfumes may be worn during your exam. (Deodorant is Ok)
No Alcohol may be consumed 12 hours before your test
Bring a list of all prescribed medications that you are currently taking
Bring photo identification (e.g., driver's license)
Finally, the best way to pass your polygraph examination is to be truthful with your background investigator, and to be truthful during the polygraph exam.