Citizen Volunteer Corps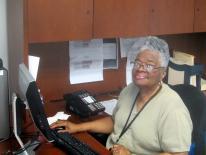 The Citizen Volunteer Corps provides civilians an opportunity to assist with the daily operations of the Metropolitan Police Department. These volunteers are assigned to departments within the Metropolitan Police Department based upon their skill sets.
Service Requirements
Be willing to work a minimum 2-hour tour of duty per scheduled day and no less than 10 hours per month;
Agree to conditions of work, including maintaining confidentiality, avoiding conflicts of interest, and maintaining security appropriate to the duties assigned; and
Abide by the rules and regulations applicable to all employees of the Metropolitan Police Department
Screening Procedure
All applicants will complete an application by clicking apply now. Upon review and satisfactory completion of a background investigation which reveals no criminal record excluding minor traffic violations. Volunteer applicants may be asked to participate in an interview prior to acceptance into the program. Volunteer applicants who are not accepted into the program, for any reason, will be notified.
Examples of Volunteer Opportunities
Administrative Assistant
Auditor
Auto Mechanic
Community Service Assistant
Computer Programmer
Computer Repair Technician
Data Entry Clerk
Family Counselor
File Room or Mail Room Clerk
Inventory Control Clerk
Marine Mechanic
Paralegal Clerk
Public Relations Assistant
Statistician
Word Processor/Typist
Any other position or service identified by the department
Types of Volunteer Opportunities
Volunteers are needed to perform the following:
Any service or function which augments or supplements any existing function, service, or program which is staffed by employees of the Metropolitan Police Department
Any service or function that creates a community service capability which would not be available under existing programs or by utilizing current available resources
Duties assigned to a regular employee during the temporary absence of the regular employee, provided the volunteer is qualified to perform the regular employee's assigned duties
Duties assigned to a regular employee, on a temporary basis, during periods of heavy workload
Duties assigned to a regular employee on a temporary basis or to assist in relieving an existing backlog of work
Duties which require only minimal physical demands. No individual shall be denied an opportunity to volunteer their services based on any disability, provided the individual can adequately perform the duties safely and without hazard to him/herself or others.