Become a Civilian Employee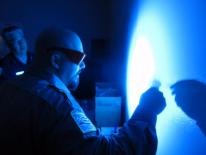 Each day almost 500 civilian employees serve the Metropolitan Police Department in a broad variety of engaging administrative, technical and operational positions. Every member plays an integral and important role in day-to-day operations of the Department. MPD actively recruits and seeks qualified applicants to serve in civilian capacities.
Some examples of civilian employment opportunities with the Department are:
Administrative support staff
Cellblock processing technicians
Compliance monitors
Community outreach specialists
Crime scene technicians
Forensic scientists
Intelligence analysts
IT project managers
IT software developers
Management analysts
Policy writers
Victims specialists
And many more…
Civilian employees enjoy a wide range of benefits offered by the District of Columbia Government. Some benefits include:
Annual leave and sick leave
Commuter benefits program
Dental and optical coverage
Employee assistance program
Health
Long-term disability insurance program
Paid holidays
457(b) deferred compensation plan

Current opportunities include:
Position

ID Number

CS/MSS Code //
Salary


Closing Date

Investigator (EEO)
24766
Up to $82,357
4/23/2014
IT Specialist
(Applications Software)
22621

CS 2210-14
Up to $122,153

Open Until Filled
IT Specialist
(Data Management)
22635
CS 2210-14
Up to $122,153
Open Until Filled
IT Specialist
(Data Management)
22615

CS 2210-14
Up to $122,153

Open Until Filled

IT Specialist
(Data Mgmt./
Systems Administration)

22270

CS 2210-14
Up to $122,153

Open Until Filled
For a full listing of current civilian opportunities, please visit the DC eRecruit website, keyword search "police" with a posted date of "anytime." Additionally individuals may contact the the Human Resources Division at (202) 727-4261 to discuss opportunities available within the Department.