Lionell Thomas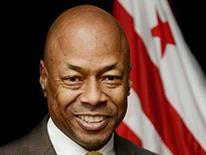 Growing up in the District of Columbia, Lionell Thomas learned at a very early age about the transformative power of the arts. As a champion for the creative community, his mission is clear: expand arts opportunities in the District of Columbia by building infrastructure, targeted alliances and policy driven activism.
Thomas returned to the District of Columbia Government in October 2011 after serving as the Executive Director of the Prince George's Arts and Humanities Council for two and half years. He was previously with the DC Commission on the Arts and Humanities for over twenty-three years, where he served in numerous capacities throughout the agency; eventually serving as the Deputy Director and Interim Executive Director. Over the years, Thomas has been cited as a dynamic and steady arts administrator.
A specialist in outreach to diverse communities, Thomas has applied his collaborative approach and innovative concepts to provide project management, marketing strategies and public engagement planning to the public, private, non-profit and international organizations. Thomas' oversight of establishing the first-ever Enterprise Fund for the arts is demonstrative of his ability to transform political reality into action. Thomas is credited with securing a long-term sustainable business plan to support the iconic renewal of the Historic Lincoln Theatre. Most recently, Thomas worked with the District of Columbia Government to develop a comprehensive citywide creative economy strategy to provide entrepreneurial opportunities for the creative sector.
Thomas continues to serve on a number of state grants panels as a reviewer and site evaluator, as well as an advocate for the arts and humanities in the community. Thomas currently serves on several nonprofit boards including the National Assembly of State Arts Agencies, Cultural Capital (formerly the Cultural Alliance of Greater Washington), John F. Kennedy Center for Performing Arts, DC Commission on the Martin Luther King, Jr. Holiday and others.
Thomas earned a Master of Arts in Organizational Leadership from Lewis University and a Bachelor of Arts in communications from the University of Pittsburgh. In 2014, Thomas' was inducted into the DC Hall of Fame for his contributions to Cultural Arts.
Of all his accomplishments to date, Thomas is proudest of the initiatives developed to bring arts programs to underserved communities—several of which remain staples of the District of Columbia's arts community today, inclusive of the Upstart Capacity-Building Program, and the East of the River Arts Initiative.