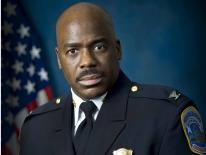 Commander Jeff L. Brown
Jeff L. Brown began his law enforcement career with the Metropolitan Police Department in October of 1990. Upon graduation from the academy, he was assigned to the Second District. Following his certification as a patrol officer, Commander Brown was immediately assigned to the Second District Vice Unit. After honing his investigative skills, Brown was assigned to the Second District Detectives Office as an Investigator.
In 1994, Commander Brown was transferred to the Homicide Unit where he investigated the onslaught of homicides the city was experiencing, at that time. During his tenure with the Homicide Branch, Brown received extensive training in Forensic Pathology, death investigations, and interview and interrogation techniques offered by the FBI in Quantico, VA.
Commander Brown was promoted to Sergeant from the Homicide Branch and subsequently returned to the unit during its reorganization. He has spent a portion of his career in various investigative units, and continued this theme after being promoted to Lieutenant, where he was assigned to the (former) Office of Superintendent of Detectives, and commanded the Sixth District Detectives Unit. Brown later commanded the Seventh District's Vice Unit and Warrant Squad.
In 2006, Jeff Brown was promoted to the rank of Captain and assigned to the First District. While assigned to the First District, he organized the First District's Warrant Squad and supervised both the Powershift and Vice Units.
In 2011, Commander Brown was reassigned to the Fifth District as an Assistant District Commander. In the spring of 2012, Commander Brown headed the Summer Crime Initiative for the Langston-Carver area. During this project, this area experienced a significant reduction in homicides.
Commander Brown was born and raised in the Hillcrest neighborhood of Washington, DC, and attended the University of Maryland where he originally majored in English. He subsequently completed his studies in Business Administration and earned a Bachelors of Arts degree in that field from the University of Maryland.